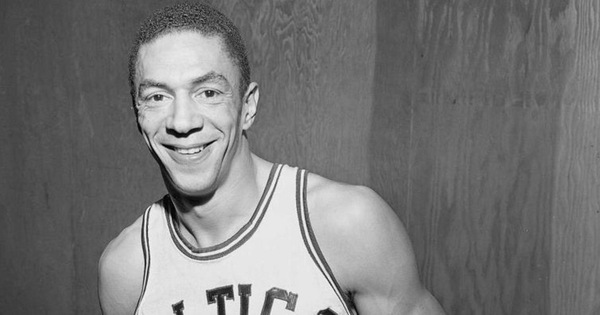 College of Marin (COM) is naming their basketball court after Bay Area basketball trailblazer and COM alum, Don Barksdale. In a unanimous decision, the Board of Trustees passed the resolution earlier this month to name the basketball court Don Barksdale Court.
Barksdale was a professional basketball player, local entrepreneur, and philanthropist who grew up in Oakland in the 1930s and 1940s amidst legal racial segregation in the United States. As a Black man, he broke many color barriers on his way to being one of the first and best professional basketball players in the 1950s and led the way for African American players to follow. 
Barksdale attended COM between 1941-1943 and was involved in track and field and basketball, where he helped lead the team to two California Junior College Championships. After COM he attended UCLA on a scholarship, where he helped them win multiple championship games. He was the first African American consensus NCAA All-American Basketball Player and the first African American member of the U.S. Olympic Basketball Team at the 1948 Olympics, where the team won gold. 
At the age of 28, he was one of the first Black men to play in the NBA and was one of the highest-paid players in the league. He was the first African American to play in the NBA All-Star game and was also the first Black man to host a postgame radio show. After ankle injuries sidelined him four years into his NBA career, he moved back to Oakland and had very successful radio and television shows, as well as creating Save High School Sports Foundation that raised funding to keep high school sports running in Oakland. He passed away in 1993.
Walter Turner is the chair of COM's Social Sciences Department and heads the College's Umoja program that is designed to assist African American students with retention, graduation, and persistence. Turner grew up in the Bay Area listening to "Big Daddy Don" on KBIA—a local radio station that played blues, soul, and jazz. The station "had a tremendous community following," he remembered. He thinks this is an important step in recognizing such a pioneer. "He is very representative of those African Americans who migrated to the West Coast and, as is the saying, 'made a way out of no way.' And he never forgot that. He was a common person who made a name for himself, opened doors for African American athletes, and gave back to his community." 
COM Director of Kinesiology and Athletics Ryan Byrne began the campaign to name the court after Don Barksdale and says Barksdale is "arguably the most significantly historical character to go to COM. That we didn't have anything to recognize him was an oversight." He credits Turner, Counselor Troy Stevenson, Board of Trustees President Stuart Tanenberg, and Superintendent/President David Wain Coon for their support as "it takes a team effort to make something like this happen."
"I'm delighted this came forward," Trustee Tanenberg relayed. "He broke many of barriers as an African American athlete. When you look at his bio and history, it embodies our mission towards equity, diversity, and inclusion."
As an academic counselor and instructor, Stevenson works mainly with student-athletes on COM's men's and women's basketball teams and is also a part of the Umoja program. He was also excited to help make this a reality. "I think it is a great honor and I only wish it could have been done when he was still with us. I am a huge basketball fan so learning about the Bay Area's history, especially College of Marin's, is exciting to know and share. I think our student-athletes will be excited to learn about Don Barksdale and the connection to African American history."
Due to COVID-19, the opening ceremony to display the court's new name will be delayed to next spring. Byrne wants to ensure there is an educational piece for visitors to learn about Barksdale's life and contributions in a designated space at the entrance of the pavilion. Byrne added, "it will be an accessible way to help people learn about his legacy."