March 4th, 2021 - 10:31pm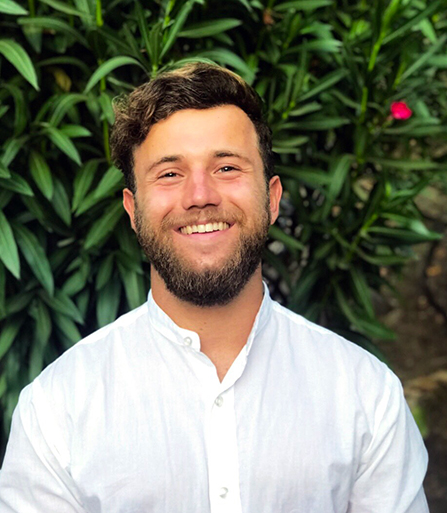 Not everyone knows what they want to study when they go to college. Sometimes it's important just to get to know more about the things you're interested in to see where it leads you.
Take Niklas Ugalde, a recent College of Marin (COM) graduate, was honored this summer with the Youth Award for Environmental Leadership from the Marin Conservation League. It's an annual award given to one Marin County high school or college student leader who seeks innovative solutions to increase environmental sustainability and create a positive impact on their community and the county.
Ugalde joined COM's Environmental Action Club (EAC) just because he knew he was interested in environmental causes, "but I never saw it as a real opportunity," Ugalde remembers. "It was just a passion I had, and I wanted to contribute to environmental sustainability."
Niklas Ugalde grew up in Germany and after graduating high school moved to the United States as a nanny, first spending a year in Boston and the following year in the Bay Area. Once his job came to an end, he decided to go to community college because he wasn't sure what kind of career he wanted to have yet.
"I was interested in sociology, psychology, environmental sciences, and economics," states Ugalde. "But back home in Germany you can't explore like you can at an American community college. You have to specialize very early on, so it was phenomenal for me to be at COM, to have access to a broad range of disciplines and have this interdisciplinary education and find how these different perspectives interconnect."
At COM, he was a part of a community where he could become engaged in environmental issues and start making an impact. He became inspired by those around him, his fellow students, instructors and his club advisor and instructor, Joe Mueller. Everyone gave him the motivation to expand his work in the environment to the point where he could actually see himself having a professional career in the field.
EAC Advisor Joe Mueller, recommended him for the leadership award because of Ugalde's hard-won efforts in launching a recycling program and beginning a fossil fuel divestment campaign at COM as president of the club.
"Niklas actually got stuff done," recalls Mueller. "He convinced the president of the College to agree to divest a certain amount funds out of oil. That was the biggest thing he did. And, like our president, he's an unassuming nice guy who will listen."
Ugalde took two courses from Mueller, biology and environmental science. "Niklas was always right in the front of class," says Mueller, "asking great questions, and motivating other students. When you have someone like that, it works mutualistically with the teacher, too. It helped the class grow in a way that was enjoyable."
Ugalde's non-threatening manner in class and on campus helped him inspire others to join the cause and accomplish things others before him had a difficult time doing. He brought in lecturers from UC Berkeley, worked with local organizations like 350 Marin that fights climate change, and was persistent in increasing COM's recycling capabilities and divesting COM's fossil fuel holdings.
He graduated from COM in May 2020 with an associate degree in social and behavioral science and transferred this fall to Pitzer College, one of the Claremont Colleges in Southern California, to get a degree in environmental analysis.
Before transferring, Ugalde participated in two three-month internships over the summer. His first was with the Environmental Action Committee of West Marin, a local nonprofit that pulls efforts to sustain the lands and increase the biodiversity.
He was on the climate team as their climate intern to help research in-pipe hydro systems in Marin County. In-pipe hydro systems use gravity and aerodynamic turbines located inside pipes to help move water and create energy more efficiently than using conventional turbines. If implemented into the water network, this low-impact environmental renewable energy solution could greatly increase and diversify the amount of renewable energy in Marin County.
TerraCycle was Ugalde's second internship. TerraCycle is a recycling company that finds innovative ways to recycle non-recyclable waste streams and unusual waste streams, anything from cigarette butts to diapers to ocean plastics. Ugalde worked on their foundation team which implements plastic river capture devices in India and Thailand to help reduce the inflow of plastics into the ocean. He worked on business development to identify new investors for their projects to expand their work in India and Thailand.
"I proposed another project for them to do," explains Ugalde. "I suggested they recycle waste products in refugee camps, because they are overflowing with waste. My suggestion was sent to the CEO of TerraCycle, so hopefully they will expand to include this project."
And, if that weren't enough to do over the summer, Ugalde also started developing his own consultant organization, called Claremont Sustainability Consulting. The organization will help businesses implement sustainability strategies into their business models. After creating a website, formulating ideas, and recruiting a few members over the summer, he continued building his organization in fall, enlisting more members and potential clients.
The organization now has fifteen people, all students, with two environmental economist advisors from Pomona College. "We are currently talking to multi-national organizations that we will hopefully be working with this fall to advise them on strategies they can use to reduce their environmental impact and improve their impact on people," states Ugalde.
He wants to focus on the future of business sustainability because he believes businesses can have a positive impact on the environment and on consumers. Ugalde explains, "I hope to change the way we think about business and do business in the future, as I believe business is crucial and central to us having a sustainable future."
He also sees businesses as educators. "Businesses have a responsibility to educate their consumers on how to sustainably consume. I believe this is going to be crucial in mitigating climate change and finding ways we can lower our carbon footprint and have a lesser impact on the environment, in general."
Getting to where he is right now, Ugalde acknowledges it wouldn't have happened without the ability to explore the diverse subjects and disciplines offered, the small classrooms, and the continuous support he received at COM.
"One of the biggest benefits of attending COM was the community and the different support that I had from professors to staff to counselors. It was just really amazing. This whole process could not be possible without that intensive support COM offers. So, I am extremely grateful for that and all of the great relationships I've made through COM that wouldn't have been possible at bigger schools."
In going to Pitzer College, "I felt I could receive that same environment there," Ugalde concludes. "It's a very small college. I am very happy to be there now. It feels a bit like home."
Discover how College of Marin can help you find your life's passion at marin.edu.