October 25th, 2015 - 6:05pm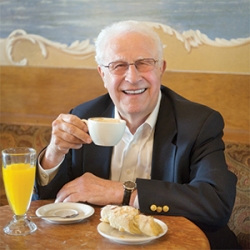 Community Education Italian language instructor, Lido Cantarutti, has been acknowledged by the President of the Republic of Italy with the promotion and conferral of the title of Commendatore dell'Ordine al Merito della Repubblica Italiana (Knight Commander of the Order of Merit of the Republic of Italy). The award recognizes thirty years of teaching at the College and his thirty-nine years as director of the Italian Film Festival in San Rafael.
Cantarutti was born of an Italian family from the Friuli region, but grew up in the Bay Area. He earned bachelor and master degrees in Romance Language and Literature from UC Berkeley, receiving highest honors and Phi Beta Kappa recognition. Cantarutti served as a U.S. Army officer after graduating from college and from the Army went on to a corporate career in marketing administration and human resources.
In 1980, College of Marin's Italian film program was just beginning when Cantarutti took on the leadership role, transforming the presentation of a movie to a festival—complete with live entertainment and a close, family atmosphere. Since 1985 the festival's success has remained constant, with most festivals selling out.
Cantarutti has received numerous acknowledgments over the years for his contributions to the community both locally and abroad. He was first honored with Italian knighthood, and the title of Cavaliere (Knight) of the Order of Merit of the Italian Republic in 1989. The Cristoforo Club of Marin named him Marin County's Italian American Citizen of the year in 1995, followed by two awards from Italy—the Merit Furlan and recognition from the Friulian branches of the Alpini national soldier association in 1996. College of Marin named Cantarutti Outstanding Part-Time Faculty Member for the academic year 1998-99. In 2001, the Italian government bestowed upon Cantarutti the promotion to Cavaliere Ufficiale (Knight Officer), and in 2002 by his family's native town in Italy with the conferral of honorary citizenship.
The Order of Merit of the Italian Republic was established in 1951 and is the highest-ranking honor of the Italian Republic. The award recognizes meritorious service to Italy in various cultural fields, including the arts, literature, and public service. Commendatore is the third of five levels of knighthood, and Cantarutti is one of only four American-born recipients being conferred with the rare honor this year. The award will be presented to Cantarutti by the Honorable Mauro Battocchi, the Consul General of Italy in San Francisco, CA, at the Italian Film Festival on Saturday, October 31, 2015.